Two tickets up for grabs – simply share the post to your social media story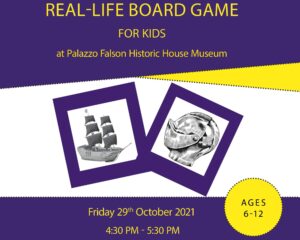 This upcoming children's event is going to be held at Palazzo Falson Historic House Museum called "Real-Life Board Game".
Two vouchers will be presented to individual prize winners, who share the poster to their story on social media and tag @maltababyandkids and @palazzofalson. Any member of the Malta Baby & Kids community who mentions The Malta Kids Directory when booking to attend this children's event will benefit from a special discount of €15 for this event.
Real-Life Board Game at Palazzo Falson Historic House Museum
Date: 29th October 2021
Time: 4:30pm – 5:30pm
Enjoy a playful afternoon and become one of the characters of Palazzo Falson and play the game with a gigantic dice and cards. 
The event is suitable for children ages 6-12.  
Pre-booking is essential. Kindly secure your child's place by sending Palazzo Falson an email on bookings@palazzofalson.com or call the organisers on 21454512 and sending the donation. €20 suggested donation (per child); €15 suggested donation (Malta Baby & Kids community).  
Upon booking you will receive the COVID-19 measures which must be followed throughout the event. 
The game is inspired by the Palazzo Falson Board Game project by digital artist Francesca Falzon.
The illustration of the armour helmet was created by Cherise Micallef, and the 3D model of the Nef was created by Aaron Zarb, as part of a collaborative project with Palazzo Falson during their third year BFA in Digital Art, The Department of Digital Arts – University of Malta.