WELCOME BACK !
After a year's hiatus we are finally back with our latest publication packed with useful information for parents and child carers of newborns up to the age of 14.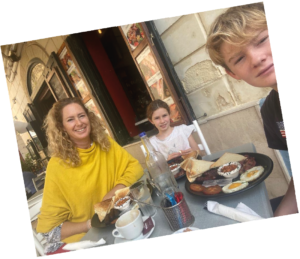 This book is your essential guide to navigating your way around Malta whether it be a health issue, school options or where to shop for anything you may need for your kids, parties etc.
With life starting to resemble more'normal'times, after what for most parents and child carers was probably considered one of the most stressful times for both yourselves and your children, we feel that more than ever, we would like to be able to guide you easily and assist you with making the right choices for your children as they grow up through these unprecedented times.
More than ever as a parent myself of two children (9 and 14 years old) I feel it is important to choose wisely for our kids, whilst keeping a watchful eye on budget, we all need to be well informed on what's on offer amongst the vast choice we have today. Hence this book being an essential reference to help make those choices.
Our articles cover topics ranging from sport to activities which make interesting reading and as ever the information within our book is also listed on our website – but the book, we feel, is always good to have at hand as a reference.
We would love to hear more from you along the way – letting us know of any new services, activities & outings that you may have discovered which we can share with other parents. If you are amongst the growing number of mumpreneurs, whose business targets young families, let us know as we'd love to list you.
We hope you will find this reference book helpful in these wonderful years of bringing up our kiddos.
DIRECTORY LAUNCH 2021
The Malta Kids Directory is the Maltese Islands' indispensable parents' guide.
After an unprecedented break in 2020, the 14th edition of The Malta Kids Directory has just been published! The annual publication is supported by a website -maltababyandkids.com, seasonal e-newsletter, regular blog and social media posts and provides a multimedia platform for everything that parents in Malta & Gozo need to know.
15 years ago mum of two, Lisa Grech felt there was a need for a one-stop reference guide to introduce soon-to-be parents into this wonderful new world of procreation. Remaining relevant in an everchanging world is a key element in every issue, with features on various aspects of family life: from early years safety to secondary extracurricular options. It provides an 'at a glance' reference for most commonly searched questions during your parenting journey and includes checklists for travel, hospital bag & baby essentials which ensure nothing is left to chance. It features independent editorial, gorgeous photography and informative listings to cover all aspects of family life, from pregnancy to ages 13+.
If you are pregnant or have kids up to 14 years grab your free copy now from all Mothercare outlets & JV Pharma pharmacies all over Malta & Gozo!
DIRECTORY LAUNCH 2019
Unbelievable to think that the concept for The Malta Kids Directory was conceived thirteen years ago!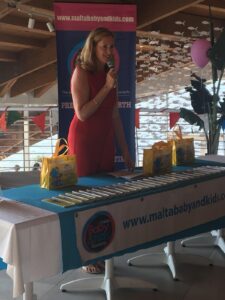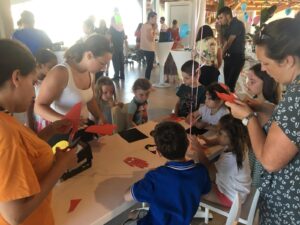 During her first pregnancy, director Lisa Grech noticed a gap in the market for a one-stop reference guide to introduce soon-to-be parents into this wonderful new world of procreation. Thus was born the concept of The Malta Kids Directory! Little wonder then that the team feel as fierce a bond with The Malta Kids Directory as they do with their own (seven between them!) children.
The online portal, www.maltababyandkids.com,  which offers users free access to a wide variety of relevant categories in which parents will be looking for assistance in making the right choices for their children- ranging from Parties to Travel, Sports as well as Shopping and Activities; is also supported by an unique annual publication. At the start of every Summer the latest edition of The Malta Kids Directory is launched amidst much fanfare to include the most relevant topics for parents entering the parent club, with themes such as Pregnancy & Birth, Health, Childcare, Schools, Days Out & General Advice. All pregnant mothers are entitled to a free copy of the book- which remains the only printed children's directory for those living and visiting the Maltese Islands.
This year's Malta Kids Directory's book launch celebration took place on Thursday 27th June at Malta National Aquarium during the late afternoon. Following a successful Facebook campaign which aimed to show the team's gratitude to their loyal Malta Kids Directory community by inviting them to attend this family friendly celebration- the event was teaming with fans of all ages! The event kicked off with an entertaining, brief presentation by director, Lisa Grech, during which she highlighted pertinent strategies planned to ensure the successful future of the directory's online presence by creating a new website to meet the demands of their ever-increasing community of parents looking to access this essential reference guide. Children were invited to join the Party Planit animation team who kept them entertained with a fun choice of activities including games and crafts, facepainting and balloon modelling. Guests mingled during a stand-up reception where light refreshments were served. Before leaving young patrons were all given a goody bag courtesy of Nestle Malta, a complimentary copy of the 13th edition of The Malta Kids Directory, together with free Malta Kids Directory frisbee & helium balloon and reduced entrance tickets to visit Malta National Aquarium! 
The party was declared an astounding success- in true Malta Kids Directory style! You too can form part of The Malta Kids community by subscribing to our free monthly e-newsletter, packed full of interesting information relevant to life in the Maltese Islands. Visit the maltababyandkids.com website where family friendly events happening across the islands are updated daily. Follow the maltababyandkids Facebook page & join the maltababyandkids.com chat Facebook group to stay updated on the latest services and products designed to make your parenting life easier. A copy of the 13th edition of The Malta Kids Directory may be purchased online for only €5 and delivered straight to your door!
DIRECTORY LAUNCH 2018
The 12th edition of the directory was launched during a party held at the Malta National Aquarium on Thursday 28th June.  Winners of the Front Cover Photography Competition entitled 'My Pet' were presented with their prizes and guests were treated to a lovely rendition of a solo song by the young Leah Mifsud.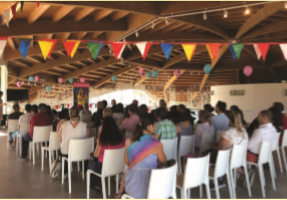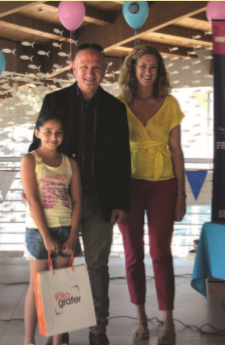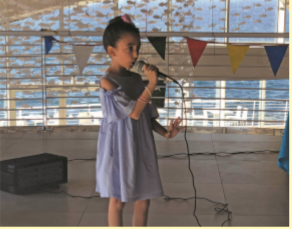 Welcome to our 12th edition of the Malta Baby & Kids Directory which together with our website www.maltababyandkids.com, I am delighted to say, remain the essential references for parents and child carers living in and visiting Malta, catering for children from birth to 14 years old.
This book is a team effort between Crysta Darmanin, Denise Briffa and myself who between us have 7 children ranging from 5 years old to 31 years old! No grandchildren just yet however…. Together with our members of over 7000 parents online we have a wealth of experience that we are happy to share with parents while always in search of more.
Every year the Baby & Kids team scour the media and are on the lookout for new and exciting developments that cater for children locally. I am delighted to see more and more innovative and exciting projects being established on the islands, in the main by parents themselves who have been clever and seen a niche market for a product, facility or service which ultimately makes parents lives easier and more interesting.
Our website www.maltababyandkids.com continues to be the number one portal for parents with new events added daily that might be of interest to parents as well as offering essential references and articles on bringing up your children. I would encourage any new parents to Malta and also living here to sign up for our monthly newsletter full of news and events to help you plan quality time with your children.
My aim would be for parents to consider this essential reference book and portal as your best friend who helps you along the way to simplify and make parenting less of a chore and more of a fun experience which ultimately will give our children lasting happy memories of their childhood!
This year the front cover children's photography competition title was "My Pet" in collaboration with The Foto Grafer of Fgura. The response was wonderful with over 80 photographs entered into the competition. As always we include some of the runners up within the book.
Finally, I would be delighted if parents keep in touch with us and join our ever increasing community of parents and child carers by subscribing to our free monthly newsletter packed with latest news and info and events happening in the upcoming months. We also have exciting competitions each month where you and your kids can win great prizes.
Keep in touch with us via our website or social media on Facebook at maltababyandkids.com and join our maltababyandkids.com chat group. We look forward to hearing from you.Wishing you fun times with your children!
Directory Launch 2017
What a Party!!
Last year's book launch party held on Tuesday 27th June at the Malta National Aquarium. Happy winners of the front cover painting competition were presented with their prize.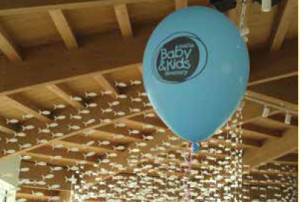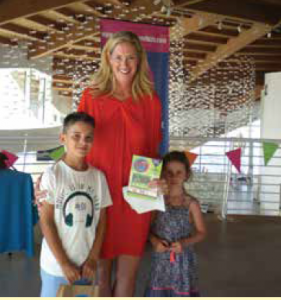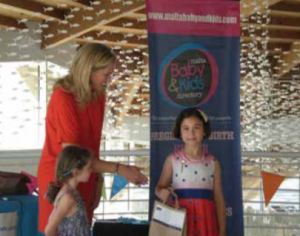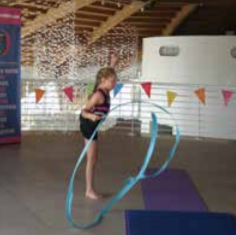 Welcome to 11th edition of The Malta Baby & Kids Directory 2017/ 2018.
In this slimmer edition we have chosen to highlight certain aspects of a child's upbringing that we think parents will find more useful while retaining the additional categories for reference on our website www.maltababyandkids.com.
This book is a team effort between Crysta Darmanin, Denise Briffa and Lisa Grech who, with 7 children between them, have a great deal of experience that they are happy to share with parents.   The directory aims to make every parents' life easier so that they can have more fun and quality time with their children.
We are happy to say The Malta Baby & Kids Directory together with its official website maltababyandkids.com it is now the leading information portal for parents with all the listings in the directory being available online including sections on Pregnancy and Birth, Health, Childcare, Schools, Days out, Activities, Sports activities, Parties, Shopping, Travel and General Advice.
We also keep in touch with parents through our monthly newsletters and keep them  informed of family friendly events as well as giving them the opportunity to participate in competitions with great prizes.
The team would like to thank all those who have given us support and shown faith in our publication and website www.maltababyandkids.com through advertising.  Thanks to your support we are able to distribute a free copy of the directory to every pregnant mother through Mater Dei Hospital and in Gozo General Hospital.
During the launch party we have also presented prizes to the winners of the Malta Baby & Kids Directory front cover painting competition as well as launching our 11th edition of The Malta Baby & Kids Directory.  The theme of the competition this year was a very current topic – Valletta,  European Capital of Culture.
The Malta Baby & Kids Directory front cover painting competition for children between 4 and 14 years this year was this year kindly sponsored by Stabilo represented in Malta by Golden Gate. This year the theme was 'Valletta – European Capital of Culture'. We received over 70 entries.  Of the many beautiful paintings, the best 12 are displayed here today, as chosen by prominent Maltese artist Caroline Said Lawrence who was given the difficult task to choose the winner.
Don't forget to subscribe to receive our monthly newsletter at www.maltababyandkids.com– packed with upcoming events and exciting competitions!
We invite you to take a look at some of our past Malta Baby & Kids Directory book launch events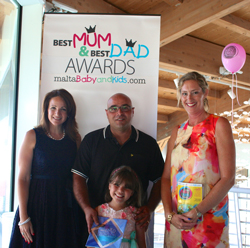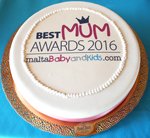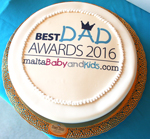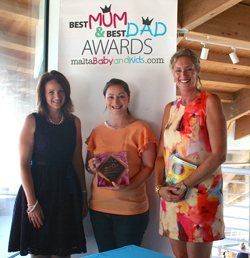 The 10th edition front cover painting competition sponsored by Faber Castell with the theme 'Saving Malta's Unique Environment' was won by Dante Pace (4 years old) and the runner up is Taya Pace (6 years old). The winner's painting is on the cover of the 10thanniversary edition of the Malta Baby & Kids Directory launched on the 28th June. Paintings of 12 shortlisted artists are also featured in the directory.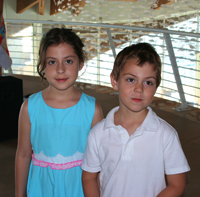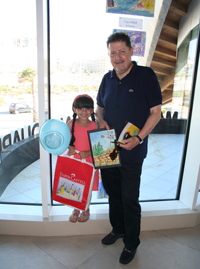 The book is the essential reference for parents and childcarers in Malta and Gozo. It is available to buy online at www.maltababyandkids.com.  Expectant mothers are entitled to a free copy of the directory through Mater Dei MaternityOutpatients.
www.maltababyandkids.com is constantly updated, featuring all the directory information for free to those who access the site,  together with being  the top reference for parents and carers looking to find events, services and products available to them throughout the year. Anyone who subscribes on www.maltababyandkids.com, receives a free monthly newsletter packed with news and events and can participate in our exciting competitions and win great prizes. They will also be kept informed about our mums and kids events organised on a regular basis throughout the year.
This year is a very special year for Malta Baby & Kids Directory- as we take a stroll down memory lane over the past ten years. The atmosphere in the office is buzzing since the launch of our eagerly anticipated tenth anniversary edition. The book launch party, held at Malta National Aquarium on Tuesday the 28th of June, was very well attended by the nominees of our Best Mum & Best Dad Award winners, the winners themselves together with their immediate family, the shortlisted dozen artists, together with the winner of our Front Cover Painting Competition and the local press.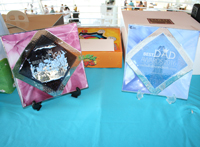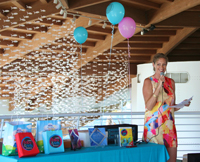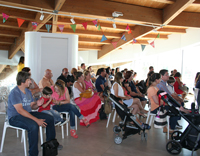 The team at Malta Baby & Kids Directory were extremely pleased to be see the look of joy on the face of our reigning Best Dad Martin Grech as he was presented with a lovely bundle of goodies by Mrs. Michelle Muscat during the launch event! Unfortunately our Best Mum Lorinda Mamo was unable to attend as her son was taken unexpectedly ill- we wish him a speedy recovery! Fleur Fenech Xuereb, who had nominated Lorinda for this prestigious award, stepped in to collect the prizes in her stead.
The youngest ever winning artist, Dante Pace, was as pleased as punch with his great prizes of a Faber-Castell voucher & a board game from Spells 'Guess The Fake' presented by this year's judge Kenneth Zammit Tabona. Our first runner-up, Taya Pace was excited about her prize of a Faber-Castell voucher coupled with a yummy Lulu's rainbow cake!
The artists who submitted the shortlisted dozen paintings to this years Malta Baby & Kids Directory Front Cover Painting competition- themed 'Saving Malta's Unique Environment', were delighted to receive their consolation prizes of a bag of Candylicious sweets, together with a comprehensive art pack generously supplied by Faber-Castell and complimentary entrance tickets to Playmobil Malta.
Malta National Aquarium provided the animation which kept the considerable amount of kids present entertained throughout- apart from also supplying those present with complimetary kids entrance tickets!
Congratulations Lorinda Mamo- Malta Baby & Kids Directory's Best Mum 2015!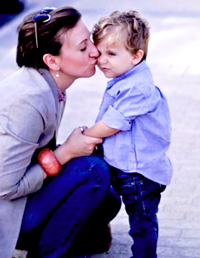 Well done Martin Grech, Malta Baby & Kids Directory's reigning Best Dad!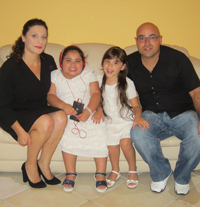 Dante Pace's winning painting features on the front cover of our 10th edition.