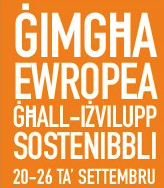 The Sustainable Development Directorate within the Ministry for the Environment, Energy and Enterprise will be organising a Lejla fil-Park event on 21st September 2022 between 5pm and 8pm.
The abovementioned event is part of the European Sustainable Development Week and shall be focusing on activities related to sports and physical activities as well as nutrition and medical examinations. The aim of the said event is to raise awareness about Sustainable Development.
Activities:
Scouts Presentation
Pupit Show
People chalked up as mascots
Boules Plays
Sailing
Football Matches
Zumba
Malta Cricket
Scateboarding
Wheelchair Basketball
The entrance is free.
The venue : St Clement's Park, Żabbar / Park ta' San Klement, Ħaż-Żabbar
For more information visit their Facebook.
When attending this event, kindly say that you saw it mentioned in www.maltababyandkids.com
.