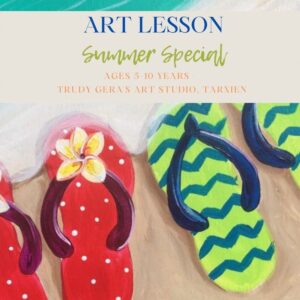 Any creative child who is eager to paint and learn can join. However, the most appropriate age would be between 5-10 years.
During the 2 hour lesson students will draw and paint a beautiful Summer theme painting on a Canvas frame. Students will get to enjoy a relaxed environment with music in the background whilst creating art. Students will have a finished painting by the end of the lesson which can be hanged at home. A gift will also be given to each student at the end of the lesson. Full hands on attention will be provided. Air-conditioned studio.
All materials will be provided except for a few personal items. Below you will find a short list of things you need to bring from home :
A cloth to wipe brushes
A cloth or packet of wipes for hands
An Art Bib
If you are already a student there, YES you can attend! The lesson will be a different one from the lesson's taught throughout the year.
The 2 hours session costs Euro 25 which will include all materials, including the Canvas Frame and a gift.
All you need to do is to click on JOIN NOW  to apply. Filling in the application form alone is not enough to secure your place. Your place will be secured ONLY upon full receipt of payment. Payment is to be done by Revolut on 79320019
This one session will be held on 2 different days & time, the session will be the same so make sure to pick on only ONE date. The session will be held either Thursday 28th July 9:00-11:00am or Friday 29th July 4:00-6:00pm. Both sessions will be held at the Art Studio in Tarxien.
In case of absence, NO refund will be given unless related to COVID/ other emergency health issues. A decision will be taken depending on the case. In that case, HALF of the amount will be refunded.