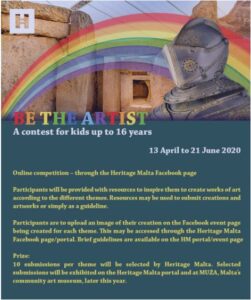 BE THE ARTIST
A contest for kids up to 16 years
13 April – 21 June 2020
Online competition – through the Heritage Malta Facebook page
Participants will be provided with resources to inspire them to create works of art according to the different themes. Resources may be used to submit creations and artworks or simply as a guideline.
Participants are to upload an image of their creation on the Facebook event page being created for each theme. This may be accessed through the Heritage Malta Facebook page/portal.
Prize:
10 submissions per theme will be selected by Heritage Malta. Selected submissions will be exhibited on the Heritage Malta portal and at MUŻA, Malta's community art museum, later this year.