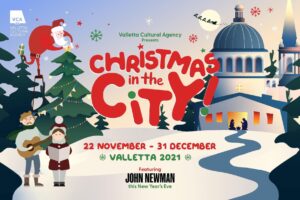 After last year's success, the popular Blind Date with a Book returns in telephone booths in Republic Street, on various dates. A curated selection of books in Maltese will be wrapped and left in telephone booths between 6PM and 8PM on the 8th, 10th, 13th, 15th, 17th, 22nd and 24th of December, with passersby being invited to pick up one of the books and enjoy the surprise.
Books will be replenished every half an hour. Through this fun initiative, the Valletta Cultural Agency is both giving a small gift to the public at Christmas time, but also promoting reading and Maltese literature for all ages. The Valletta Cultural Agency will be giving away over 500 books in total, with genres ranging from adventure and fantasy, poetry, art criticism, a novel and a political novel.
This event is part of the Valletta Cultural Agency's Christmas in the City programme, taking place from the 22nd of November till the 24th December in the main squares, strategic locations and the quaint streets of Valletta. Christmas lights and decorations can continue to be enjoyed throughout January.
Find out more information on the Facebook event page.