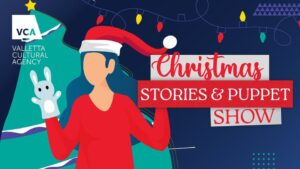 At Is-Suq Tal-Belt Valletta Food Market on
Wednesday 9th December at 6.00pm
Tuesday 15th December at 6.000pm
Freedom Square:
Wednesday 23rd December at 6.00pm
Different Christmas stories will be retold in two 40-minute theatre puppet shows by Sean Briffa and Jeremy Vella. The experienced duo takes inspiration from the traditional British puppet show Punch and Judy, which takes place in a small colourful booths in city streets, for the entertainment of all.
Due to mitigation measures to combat COVID-19, you are kindly requested to send an email to
info@vca.gov.mt
to book your place for this event. Tickets are free of charge.
This event is part of the Valletta Cultural Agency's Christmas in the City programme, taking place from the 8th till the 24th December in the main squares, strategic locations and the quaint streets of Valletta. Christmas lights and decorations can continue to be enjoyed throughout January.