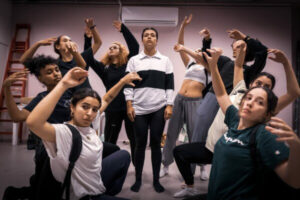 Age: 10+
Teatru Manoel in collaboration with Teatru Malta are presenting O. a work commissioned by the Cultural Directorate, within the Ministry for National Heritage, Arts and Local Government and Fondazzjoni Ċelebrazzjonijiet Nazzjonali.
Developed and directed by Sean Buhagiar, dance-theatre piece is putting Friggieri literary work on a musical backdrop with original work composed by music producer Chris Vella. It will also be accompanied by Cheryl Lofreda's choreography. The Choreographer will be accompanied on stage by her dance company The MVMT with the participation of performer Jamie Cardona and Claire Tonna. Inspired by his life, the performance will bring into fruition the legendary literary works of Oliver Friggieri almost a year after his passing, and his admiration of Dun Karm Psaila, on the occasion of the 150th anniversary since his birth.
This contemporary theatrical work will study and celebrate the work of two of Malta's most beloved writers.
When attending this event, kindly mention that you saw it on www.maltababyandkids.com.