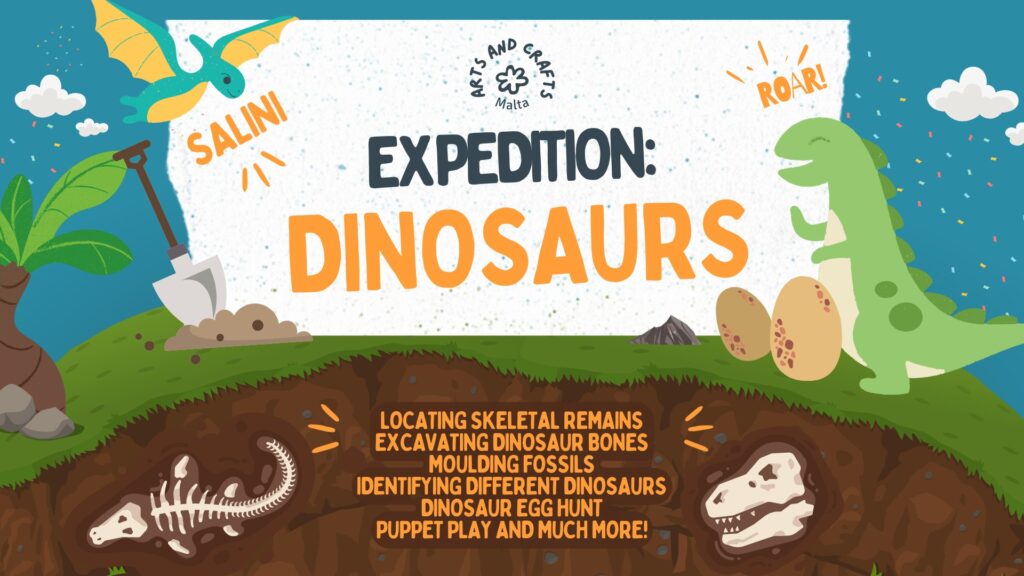 If your children have always loved dinosaurs and their history, Arts and Craft Malta offers your children the opportunity to take part in their exciting expedition to travel back in time and to learn more about their history!
During this workshop, children will locate skeletal remains, dig up dinosaur bones, cast fossils, identify different dinosaurs, help hatch their eggs and much more!
This type of activity is ideal for developing your children's creativity and culture, all in a really fun atmosphere!
Are you interested ?
Location: Salini, Malta
Date: 22nd October
Time:

9:00 – 10:30

 11:30 – 13:00

 14:00 – 15:30

 16:30 – 18:00
Price per child + accompanying adult: €28, you can register by clicking this google form: https://forms.gle/Ja4rEdo5v9CgGGFW9
More information on their Facebook Page 
More dates and locations will be launched soon..stay tuned!
Don't forget to follow us on Facebook and Instagram to discover more events !
When attending this event kindly mention that you saw it on www.maltababyandkids.com