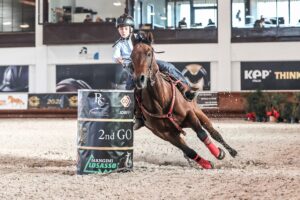 A FAMILY EVENT!
Golden Buckle Barrel Race – Malta 2022 is not only for the horse crazy people, the curious on-looker or the adults. Bring the entire family to see what this horse-loving, action-packed sport is all about!
Pictured is the 2021 youth champion and this year they will have several more youth and junior competitors in Malta!
Coming to the Golden Buckle race is not only about seeing pretty horses, it's about making memories and being a part of the sport's history as it enters Malta for the first time.
The entrance is free for children under 3,
For all who are older the entrance fee is €5.00.
The venue : MFCC – Malta Fairs & Conventions Centre, Attard, Malta
For more information visit their website : https://bit.ly/3TNrybQ
When attending this event, kindly say that you saw it mentioned in www.maltababyandkids.com