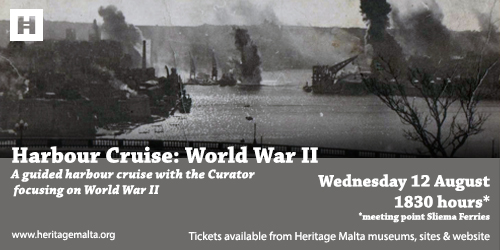 On Wednesday, 12th August, Heritage Malta will be organising a curator-guided WWII Harbour Cruise to mark the 80th anniversary of the inclusion of Malta in the Second World War and the 75th anniversary of the end of this war.
The Grand Harbour was the main target of the Axis' aerial bombings, and between 1940 and 1942, it witnessed some of the most ferocious attacks in history, including the famous bombardments on the HMS Illustrious. This conflict brought ever lasting changes to the configuration of the Grand Harbour, resulting not only in the destruction of much of the towns and villages around it, but also in the considerable loss of life.
Price: €17 adults, €10 Heritage Malta members, €15 seniors and students, and €10 children.
Heritage Malta members will be asked to present their HM membership card on the day.
Departure: The Harbour Cruise will depart from the Sliema Ferries (Luzzu Cruises point) at 1900 hours sharp and return back by 2030 hours.
Safety measures: Temperature reading will take place and Heritage Malta reserves the right to deny access to anyone with a temperature higher than 37.2 degrees Celsius, or if feeling unwell.
The tour may be cancelled in case of bad weather.
Tickets can be purchased online at https://shop.heritagemalta.org/index.asp?eventid=705