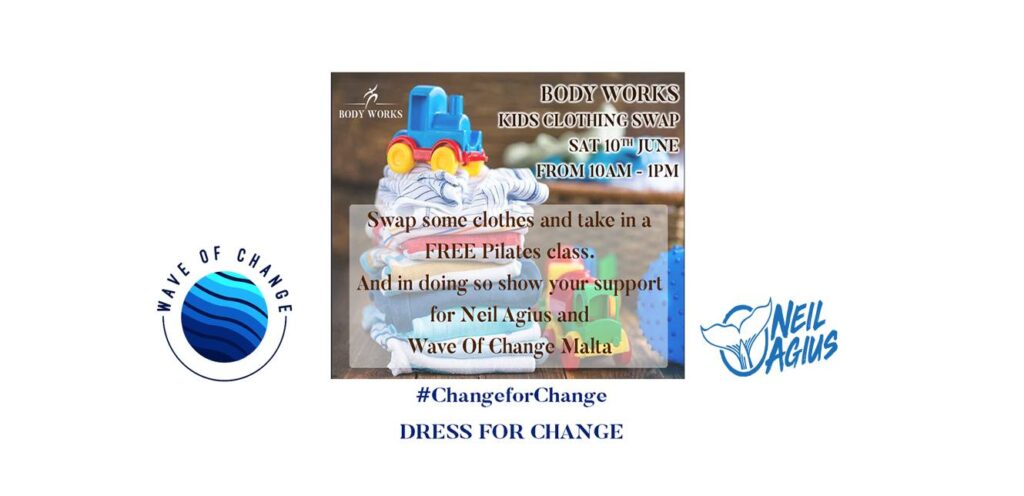 In collaboration with Neil Agius and #waveofchange, Bodyworks is hosting a children's clothing swap to support the #dressforchange campaign.
So many of us have children's clothes that have barely been worn or still have tags on them, and we keep them in our wardrobes hoping to pass them on….Well now, you can swap those clothes for others that will suit your child.
You can bring the clothes and toys you'd like to exchange to Bodyworks on Thursday June 8 or Friday June 9 between 12 and 4 p.m. (maximum 20 items). With these tokens, you can come along on Saturday 10th and "buy" other clothes that have been brought in.
If you'd like to buy items but don't have tokens, you can do so by making a donation.
Proceeds and leftovers will be donated to a charity to be determined.
Two free Pilates sessions will be offered in their ground-floor studio. First come, first served.
1st class 10.00am – 10.45am.
2nd class 11.15 – 12.00
When attending this event kindly mention that you saw it on www.maltababyandkids.com