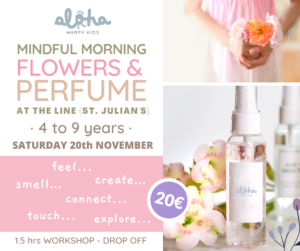 Are you ready for a Mindful Morning? Join us to familiarize yourself with the smells of flowers, herbs and oils. Identify those you like and those you don't like, those who relax you and those who energize you.
Choose your favourite one to make a NATURAL PERFUME to take home and share with your family!
Ages: from 4 to 9 years old
Location:
TheLine
(Spinola Park – LEVEL 1 – St. Julian's)
Date and time: SATURDAY 20th November at 11 am
1.5 hrs workshop DROP OFF
Find out more information on the Facebook page.