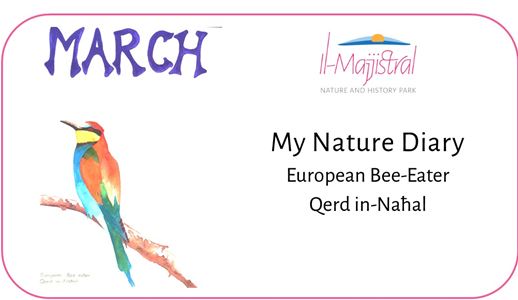 In March it will be drawing and painting the colourful European Bee-eater (Qerd in-Naħal), a bird that should be visiting us soon in Malta during the bird migration.
This activity is aimed at children but adults are welcome too.
Details:
Date: Saturday 6th March 2021
Time: 15:00 – 16:00
Duration: Approximately 1 hour
Hosted by: Il-Majjistral Nature and History Park
Booking: https://forms.gle/houb62JdfqXn6vvw6
Questions: walks@majjistral.org.
Materials needed:
Paper*, Hole punch, Ruler, Pencil, Rubber, Sharpener, Newspaper (to protect surface from paint splatter), Paint (ideally watercolour)**, White paint (gouache works best), Water pot filled with water, Palette to mix paint in, Kitchen towel, Soft paint brushes (thin and medium sizes), Rough paper to test colours.
*To create the whole diary you will need 13 pieces that are the same size. The best paper to use if you are using watercolours is watercolour paper. Our Events Officer uses paper from a watercolour pad to have to cut the paper. If you do not have watercolour paper thick painting paper (eg. sketching paper) should also be ok but it would be a good idea to test it first.
**Watercolour paints can be substituted with coloured pencils or poster paint but watercolour works best! Better quality watercolours will give better results. Our Events Officer buys hers from local art shops. You do not have to buy the most expensive ones and you also do not need to buy all the colours. The main colours to buy are: cadmium red, alizarin crimson, ultramarine blue, cobalt blue, lemon yellow, cadmium yellow, yellow ochre, and burnt umber.