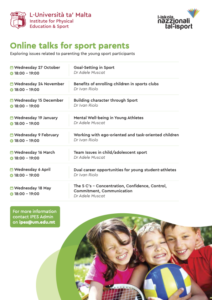 Online talks for sport parents – Exploring issues related to parenting the young participants.
It is often the case that young athletes focus solely on winning. However, as they grow older, young athletes may find that it becomes harder and harder to win and thus may lose motivation. That talk will focus on how parents (and coaches) may help young athletes set the appropriate performance (rather than outcome) goals in order to enhance focus, performance and increase motivation.
The first talk is going to be held on Wednesday, 27th October from 6pm-7pm via ZOOM.