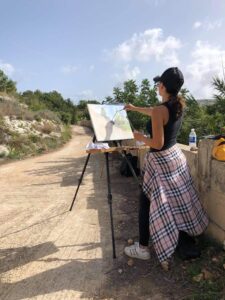 Palazzo Falson is collaborating with local artist and art educator Debbie Bonello for their upcoming children's workshop, 'Young Artists Workshop'. The free virtual workshop is open for children aged between six to ten years old on Saturday 22nd May 2021 from 2.00 pm to 3.00 pm.
Children will have fun learning new watercolour techniques with Debbie who will help them create their own painting. Inspiration is drawn from seascape and landscape paintings by Olof Gollcher who was an artist in his own right and has his paintings displayed in the Studio of Palazzo Falson Historic House Museum in Mdina. Six of these paintings have recently been restored through the support of the Majjistral Action Group Foundation under the LEADER Programme 2014-2020 for the Restoration of assets of artistic and cultural value.
Pre-booking is essential. Kindly secure your child's place by sending an email on bookings@palazzofalson.com or call  on 21454512.
Once booking is secured, organisers will send you a list of materials recommended for the workshop and zoom link.
Palazzo Falson Historic House Museum is managed by Fondazzjoni Patrimonju Malti, a non-profit heritage foundation aiming to spread awareness about our heritage through museums,
publications, exhibitions and events.
Debbie Bonello is an art graduate and painter using oils as her preferred medium to discover various topics and themes.  She works both inside her studio in Balzan as well as en plein air.  She is very active on the local art scene and can be followed on www.debbiebonello.com