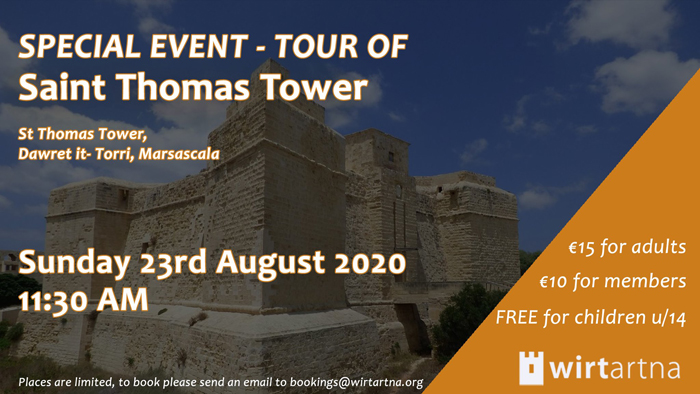 The full-scale restoration of the St. Thomas Tower in M'Scala is set to start in the upcoming month or so. This project is funded through the European Regional Development Funds and is being restored with the full support of the Malta Tourism Authority as part of coastal fortifications route.
Given the fact that this tower has been inaccessible for many years and the continuous interest shown by the members of the public to see it, FWA is offering one last chance before the commencement of works to visit the tower on a conducted tour by an expert guide.
The tour will be held on Sunday the 23rd of August 2020 at 11:30 am.
This tour will follow the established Covid-19 precautions. As a result the number of visitors will be limited so prior booking is necessary by sending an email to bookings@wirtartna.org or by buying your tickets directly:
https://wirtartna.digitickets.co.uk/events/29137?catID=21923&branches.branchID=688
Admission: €15 Adults, €10 for F.W.A. Members and FREE for children under 14 years.