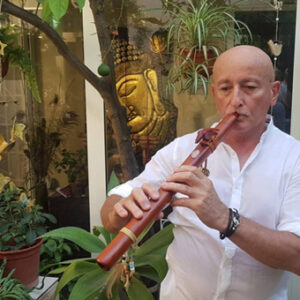 Date:  Saturday 4th February
Place:  Vincent's Eco Estate
Price:  Euro10 per child
All of us and especially children need to be able to stop and relax in a safe space. We are excited to introduce sound bath sessions at The Vortex, with Uncle G, specifically for your children. What better way for your kids to spend an hour in nature, whilst relaxing to the sounds of Native American flutes and other instruments.
Sound healing is one of the top wellness trends at the moment and it is proven fact that it improves your emotional wellbeing. It also reduces stress, improves focus and concentration and also helps with self-control, patience and stillness. These sessions help to bring balance and peace and this guided relaxation is a great tool to relax children. They also learn how to be mindful and practice the importance of kindness towards ourselves and others.
George Attard (Uncle G) is well known for his native America flutes and his therapeutic sound bath sessions, were he masters and handles his flutes, and many other instruments, for a deep meditative experience. With his sounds George will be able to take you into a state of pure relaxation were you embark on the spiritual journey towards your own healing and personal development.
We will start these sessions with a short meditation, which will be followed by a sound bath. To close off the session children will have the chance to free dance to the sounds of the different instruments. Uncle G will use his Native American flutes, a 24 string monochord, RAV Vast drum, koshi chimes and more!
Children over 8 years old are all invited to join this beautiful experience. Price is €10 per child and booking needs to be done beforehand. All applicants need to bring their own yoga mat.