Here's how to look at life-size animals in AR through Google search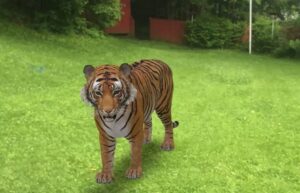 With adults and kids stuck inside to avoid the COVID-19 pandemic, it can be a great distraction to place a pet tiger, wolf, or panda on your living room couch. When the feature first premiered, it only had a few animals that you could check out, such as a tiger, a lion, a giant panda, a Rottweiler, and a wolf. Now there are a bunch of others, including an alligator, a hedgehog, and a duck.
To use the feature, navigate to Google on a compatible device, and search for the animal in question in Google search. If the animal you've searched for is available, it'll show up in a small box with some statistics, an animated thumbnail, and an invitation to "Meet a life-sized wolf up close."
From there, tap "View in 3D," and the site will put an animated 3D model on your screen. Click on "View in your space," point your phone at the floor, and it'll switch you to an AR view of the animal on your phone. This step may take a couple of minutes: it had me move my phone around before populating a handful of animals, but eventually, it displayed a tiger, a golden eagle, and a wolf hanging out in my backyard. It'll let you take a clean screenshot, minus all the tabs and buttons.
The feature is pretty cool: it's a good way to see just how large some of these animals really are up close (I kept thinking that they were too large, until I looked at their stats), and I could see this being useful in a classroom or educational setting.