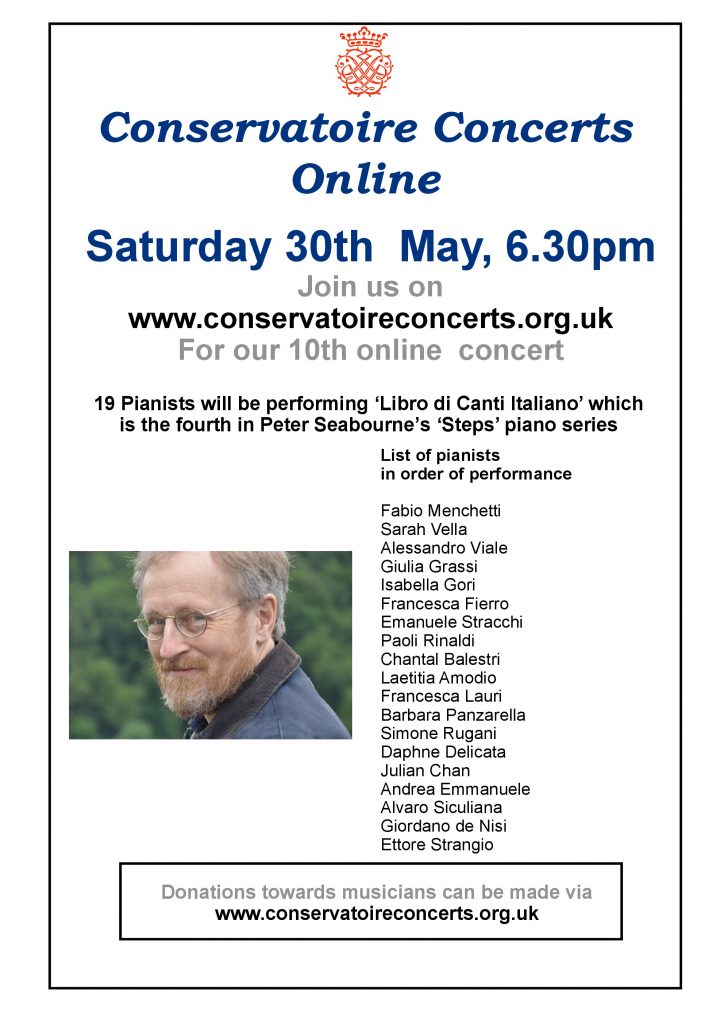 Weekly concerts streamed every Saturday at 6.30 pm GMT on www.conservatoireconcerts.org.uk.
This Saturday, the weekly concert features 4 of Malta's most talented, young pianists amongst 19 international pianists.
The link to the concert can be found later this week on the website www.conservatoireconcerts.org.uk. and the concert starts at 6.30pm GMT (7.30pm CET)
The four  pianists of Maltaese origin are…
Daphne Delicata
Laetitia Amodio
Francesca Lauri
Sarah Vella
Libro di Canti Italiano" is the fourth in Peter Seabourne's "Steps" piano series, a cycle of 19 piano pieces lasting some 50 minutes. The collection explores aspects of the Italian temperament – passion, spontaneity, extroversion, even a little subversiveness and mutiny – in a series of "songs without words". Some of these explore these themes directly, whilst others have sub-plots and subsidiary connections. The work opens and closes with "songs" of joy and vitality but in between we find a kaleidoscope of colours, moods and atmospheres – everything from falling leaves to an insistent little bird; from dreams to drunkenness; from raindrops to a sad carillon. These often call for virtuosity, but also tenderness and poetry. Throughout there is great rhythmic inventiveness and strong characterisation, but unlike much contemporary writing this music always remains approachable and immediate.
British composer Peter Seabourne is 60 in a few months time. He suffered a 13 year silence in mid-career and disowned all his earlier work upon resuming in 2001. The piano has become central to his output. He is now often performed worldwide, with several international prizes, many CDs, broadcasts and reviews. His music is accessible, but with integrity, and his language is instantly identifiable. He follows his own stylistic path.
"A composer of immense emotional clout" [Classical Reviewer]
"Ambitious, questing and pointedly European in outlook, the music of Peter Seabourne avoids easy answers. Clearly Seabourne is a composer with whom to reckon, his music combining a demonstrably Romantic rhetoric with an always audible and yet never facile approach to tonality." [Musical Opinion]