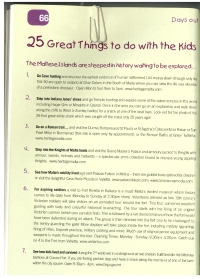 The Maltese Islands are steeped in history waiting to be explored…
1. Go Cave hunting and discover the earliest evidence of human settlement 144 metres down (though only the first 50 are open to visitors) at Għar Dalam in the South of Malta where you can view the life size skeleton of a prehistoric dinosaur.  Open Mon to Sun 9am to 5pm. www.heritagemalta.com
2. Step into Indiana Jones' shoes and go Temple hunting and explore some of the oldest temples in the world including Ħagar Qim or Mnajdra in Qrendi. Once in the area you can go on an exploration and walk down along the cliffs to Wied iz-Zurrieq (valley) for a snack at one of the local bars. Look out for the photo of the 26-foot great white shark which was caught off the coast only 20 years ago!
3. Go on a Roman trail… and visit the Dumvs Romana and St Paul's or St Agatha's Catacombs in Rabat or San Pawl Milqi in Burmarrad (this site is open only by appointment), or the Roman Baths at Ghajn Tuffieha. www.heritagemalta.com
4. Step into the Knights of Malta boots and visit the Grand Masters Palace and armoury packed to the gills with armour, swords, helmets and halberds – a spectacular arms collection bound to impress young aspiring Knights.  www.heritagemalta.com
5. See how Malta's nobility lived and visit Palazzo Falson in Mdina – there are guided tours tailored for children or visit the delightful Casa Roca Piccola in Valletta. www.palazzofalson.com,
www.casaroccapiccola.com
6. For aspiring soldiers a visit to Fort Rinella in Kalkara is a must! Malta's liveliest museum where history comes to life daily from Monday to Sunday at 2.30pm sharp. Volunteers dressed as late 19th century Victorian soldiers will take visitors on an animated tour around the fort. This tour combines excellent guiding with lively and colourful historical re-enacting. The tour starts with the firing of an original Victorian cannon (which you can also fire!). This is followed by a live demonstration of how the fort would have been defended during an attack. The group is then directed into the fort only to be challenged by the sentry guarding the gate! More displays will take place inside the fort including military signalling, firing of rifles, bayonet practice, military cooking and more. Much use of original period equipment and weapons is made throughout this tour. Opening Times: Monday – Sunday: 9.30am- 5.00pm. Catch bus no 4 to the Fort from Valletta. www.wirtartna.com
7. See how kids lived and survived during the 2nd world war in underground air raid shelters built beneath the Vittoriosa bastions at Couvre Port. If you are feeling peckish stop and have a snack along the marina or at one of the bars within the city square. Open 9.30am – 4pm. www.birgu.gov.mt
Planes, perhaps no trains but boats and automobiles….
8. Flying machines once flown by magnificent men can be viewed at the Malta Aviation Museum located on the site of Ex. RAF Station Ta' Qali (aka Ta' Kali). Try your hand at the controls of a BAC 1-11 passenger aircraft and walk around the restored and preserved war aircraft including a spitfire, tiger moth and Hawker hurricane. Catch bus 86 from Bugibba, bus 65 from St Julians bus terminus and bus 80 & 81 from Valletta. Bus Route number 65 is located just outside the Malta Aviation Museum Complex. Bus Numbers 80, 81 & 86 stop 7 minutes walk away from the museum, follow installed directions throughout the way. Opening Times: Monday to Sunday 9am to 5pm except Good Friday, Easter Sunday, 15 August, Christmas Day & New Year's Day. www.maltaaviationmuseum.com
9. Ahoy captain!  Jump on board a traditional local frejgatina wooden boat and sail across Grand Harbour, departing from next to Customs House in Floriana to Vittoriosa marina.  Once on the marina visit Malta's maritime museum housed in the former British Naval Bakery. There are several exciting exhibit rooms including the engine room machinery of the Anadrian, a steam-driven grab dredger built in 1951 for Malta. You can see a collection of detailed ship replicas and paintings illustrating 19th and 20th century vessels, together with an array of colourful ship badges organised into thematic and chronological sectors as well as navigational charts, nautical instruments, weapons, uniforms, anchors, maps, models and other artefacts dating from 1530 to 1798. An entire room is dedicated to traditional Maltese sea crafts and other objects that indicate popular traditions and Malta's long-standing maritime vocation. Open daily: 9am-5pm; Last admission: 4.30pm. Closed: 24, 25 & 31 December, 1 January, Good Friday. www.heritagemalta.com
10. Brmm, Brmm, Toot, Toot your heart out at the Malta Classic Car Museum which covers approximately 3000sqm and is jam-packed with over eighty cars and motorcycles.  The premises also houses a cinema, a comfortable cafeteria, gift shop, thousands of model cars and memorabilia. The museum is situated quite close to the Qawra bus terminus, in Tourist Street, Qawra. Open Mon to Fri 9am-6pm.  Saturday & Public Holidays 9am-2pm www.classiccarsmalta.com. Bus No's. from Valletta  49, 58, 59, 449, 499. Bus No's. from Sliema 70, 652.
11. For Bob the Builders of this world…discover how Maltese houses were built. The Limestone Heritage in Siggiewi traces the progress of Maltese culture throughout the ages, as seen through the different buildings, monuments and artefacts carved in stone, dating back to the very first free-standing structures of 5,000 years ago. You can also carve your own souvenir in stone and keep it as a memento of your visit!  Open Mon to Fri 9am – 3pm, Saturday 9am – 12pm, Sunday 9am-11.30am. Catch bus 89 from Valletta Terminus.  www.limestoneheritage.com.
12. For the aspiring detective why not pay a visit to the relatively unknown, meticulously set up Police and Crime Museum at the Police HQ in Floriana. You can join a guided tour given by the Curator who will give a detailed explanation of every object on show.  Open Mon-Fri 9am-4pm.  Tel: 2122 4001
13. Head for Gozo and enjoy a 5 to 6 hour fishing programme with expert Gozitan fishermen who will give you tips and show you techniques in this popular sport.  You can either board their brightly painted 'Luzzu' fishing boats, bearing the Phoenician 'eye of Osiris' on the prow or else, if you are a small group, you can sail the 'frejgatina'. The programme includes deft techniques in bait-fishing and 'finger fishing', using a pliable rod three to five meters long, not necessarily with a reel. The boat trip can be arranged for the morning (usually from 9am until 3pm) or for an afternoon (usually 4pm until 9pm). A morning programme would usually start with a meeting, and then head off to the seashore to fish, a boat ride by the cliffs and in one of the impressive caves together with a traditional lunch with the fishermen. As for your catch? Take it home with you or cook it fresh there and then! www.ambjentahjar.org
Get active…
14. Feel the wind in your sails and learn to sail it's real fun and now it can be done by everyone! Various clubs around the island accept children from about the age of 8 up. Best to call and check in advance, look up Sailing in Sports Activities within the director.
15. Fancy meeting Neptune down in the depths of Malta's Mediterranean sea – try a scuba diving session from one of the scuba diving centres. Some clubs accept kids from the age of 8 years but best to call and check in advance. (Scuba Diving in Sports Activities).
Get in touch with nature…
16. Trek through Malta's beautiful countryside and go on a one and a half hour guided nature walk at il-Majjistral Nature and History Park. Walks start at 10am near the Golden Bay bus terminus and finish there around 12.30pm. Bookings can be made on walks@majjistral.org
17. Take a hands-on approach to farming and experience an idyllic day in the tranquil life of a local shepherd with your own hands-on involvement in the feeding and milking of the sheep as well as your input in the process of Gozitan cheese-making. Depending on the season, you may assist or observe manual sheep shearing up close. An authentic traditional lunch with your host is included in this event, featuring a wide variety of local produce ranging from Gozitan cheese, olives, sun-dried tomatoes, crusty oven baked bread and a rich local dish ensuring that your day will be a memorable one! Organised by the Ager Foundation www.ambjentahjar.org
18. Muck in and visit a traditional Maltese farm and organise a group of at least 10 to visit the huge selection of animals at Ghammieri Farm including ponies, horses, goats, sheep, cows and birds. Take a picnic and let your kids play on the swings there. Definitely worth a visit. You will need to phone ahead and book your trip.  Open between 8am and 12.30pm daily.  www.mrah.gov.mt
19. Go Bird Watching at Bird Life's Ghadira Nature Reserve in Mellieha, next to Malta's most popular sandy beach. This reserve is of ecological importance since it's a wetland and salt marsh habitat. This area is a haven for birds and the protection it enjoys ensures that as the seasons change, Ghadira hosts a variety of animal and plant life, some of which are rare and endangered and given special protection by the European Union. From November to May, Ghadira and Is-Simar reserves are open to the public. BirdLife volunteers lead guided walks along the nature trail. Open Saturdays & Sundays from 10am-4pm. Public Transport from/to Valletta: Buses 44 & 45. Bird Life Malta also have their own kids & teens club which organises nature activities, most of which are outdoors, like bird watching, hiking, tree-planting, boat trips and visits to nature reserves. Teenage members also go camping, bike-hiking and night hiking. www.birdlifemalta.org
20. Marvel at the beautiful falcons at the Malta Falconry Centre and learn about these birds of prey and Malta's ancient falconry tradition which dates back to the 13th century when emperors from all over Europe sent their royal falconers to get the highly prized Maltese falcons. In the aviary collection you may see a peregrine falcon, a vulture as well as a bald eagle. Display times are at 11am and 2pm. The facility has ample parking, an outdoor picnic area of approximately 9600 squared metres as well as a cafeteria. www.maltafalconrycentre.com
21. Delve into the world of bugs and beasties at the Museum of Natural History in Mdina, housed in the 18th century Magisterial Palace of Justice. There you can see important collections which hold over 10,000 rocks and minerals, over 3,500 birds, bird's eggs and nests, 200 mammals, over 200 fish species, thousands of local and exotic shells and insects. The fossil collection is also worth looking at, it contains a number of large fish, numerous species of sea urchins and other marine fauna found embedded in limestone rocks. Open Monday to Sunday: 9am-5pm; Last admission: 16.30. Closed: 24, 25 & 31 December, 1 January & Good Friday.
22. Make Malta Green and participate in the 34U campaign – book your family on a tree planting activity. www.mrah.gov.mt
23. Sand castles are fun throughout the year. We're blessed with great weather provided wind is not blowing strongly! And above all it's free of charge and during the winter you'll probably have an entire beach to yourself! So go for it … whilst there you can let the kids get all messy with their paints – all they need is to gather some pebbles or shells or whatever takes their fancy and let their imagination run free.
Get Cooking…
24. The Hilton's Executive Chef Joe Vella and his team will teach your little ones how to prepare a packed lunch (much needed), picnic food and party food for all those parties to be had. Cookery classes are held between May and September for children aged 8 to 12. Check out other exciting cookery classes in Malta.
Get Creative…
25. Get hands on and go to a pottery class and create something fantastic to take home.  Look up various classes in the Art, Craft & Pottery classes in the Activities section.
To read this, and many other interesting articles, purchase the latest edition of the book here!