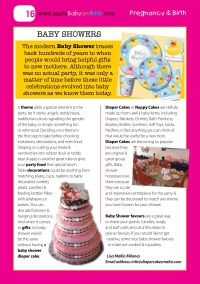 The modern Baby Shower traces back hundreds of years to when people would bring helpful gifts to new mothers. Although there was no actual party, it was only a matter of time before these little celebrations evolved into baby showers as we know them today.
A theme adds a special element to the party, be it storks, angels, teddy bears, traditional colours signalling the gender of the baby or simply something fun or whimsical. Deciding on a theme is the first step to take before choosing invitations, decorations, and even food.
Shaping or cutting your treats & sandwiches into rubber duck or teddy bear shapes is another great idea to give your party food that special touch.
Table decorations could be anything from matching plates, cups, napkins to baby decorated confetti, plastic pacifiers & feeding bottles filled with jellybeans or sweets. You can also add banners & hanging decorations.
And when it comes to gifts, no baby shower would be the same without having a baby shower diaper cake.
Diaper Cakes or Nappy Cakes are skillfully made up from useful baby items, including Diapers, Blankets, Clothes, Bath Products, Booties, Bottles, Soothers, Soft Toys, Socks, Pacifiers, in fact anything you can think of that would be useful for a new born.
Diaper Cakes are becoming so popular because they are original & great group gifts. Baby shower hostesses love them because they are a cute and impressive centre-piece for the party & they can be decorated to match any theme you have chosen for your shower.
Baby Shower favours are a great way to thank your guests. Candles, soaps, and bath salts are just a few ideas to give as favours. If you would like to get creative, some nice baby shower favours to make are cookies & cupcakes.
To read this, and many other interesting articles, purchase the latest edition of the book here!