Living on such a culturally rich island means that children start becoming aware of our heritage at a very young age. Hence, it can never be too early to start exposing them and channelling their curiosity in the right direction. Heritage Malta, the National Agency for museums, has made it one of its priorities to make culture accessible to all audiences, including the young.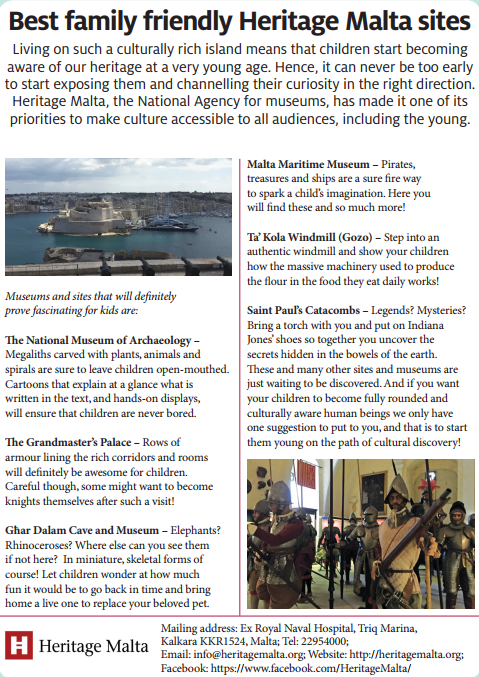 Museums and sites that will definitely prove fascinating for kids are:
 The National Museum of Archaeology – Megaliths carved with plants, animals and spirals are sure to leave children open-mouthed. Cartoons that explain at a glance what is written in the text, and hands-on displays, will ensure that children are never bored.
 The Grandmaster's Palace – Rows of armour lining the rich corridors and rooms will definitely be awesome for children. Careful though, some might want to become knights themselves after such a visit!
 Għar Dalam Cave and Museum – Elephants? Rhinoceroses? Where else can you see them if not here? In miniature, skeletal forms of course! Let children wonder at how much fun it would be to go back in time and bring home a live one to replace your beloved pet.
 Malta Maritime Museum – Pirates, treasures and ships are a sure fire way to spark a child's imagination. Here you will find these and so much more!
 Ta' Kola Windmill (Gozo) – Step into an authentic windmill and show your children how the massive machinery used to produce the flour in the food they eat daily works!
Saint Paul's Catacombs – Legends? Mysteries? Bring a torch with you and put on Indiana Jones' shoes so together you uncover the secrets hidden in the bowels of the earth. These and many other sites and museums are just waiting to be discovered. And if you want your children to become fully rounded and culturally aware human beings we only have one suggestion to put to you, and that is to start them young on the path of cultural discovery!
To read this, and many other interesting articles, purchase the latest edition of the book here!