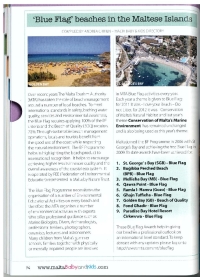 Words by Andrea Critien
Over  recent  years  The  Malta  Tourism  Authority  (MTA)  has  taken  the  role  of  beach management around a number of local beaches.  To meet international standards in safety, bathing  water  quality,  services  and  environmental  awareness,  the  Blue  Flag  requires applying 100% of the BLUE FLAG criteria and the Beach of Quality (BOQ) requires 70%. Through sustainable beach management operations, locals and tourists benefit from the good use of the coast while respecting the natural environment.
The Blue Flag Programme helps in highlighting the beach product to international recognition.  It helps to encourage achieving higher results in water quality and the overall awareness of the coastal eco system.  It is operated by FEE (Federation of Environmental Education) represented in Malta by Nature Trust.   Malta joined the BLUE FLAG Programme in 2006 with St George's Bay and achieving the first Blue Flag in 2009. To date awards have been achieved for:
St. Georges Bay (SGB) – Blue Flag
Bugibba Perched Beach (BPB) – Blue Flag
Mellieha Bay (MB) – Blue Flag
Qawra Point – Blue Flag
Ramla l-Hamra (Gozo)- Blue Flag
Għajn Tuffieha – Blue Flag
Golden Bay (GB) – Beach of Quality
Fond Ghadir – Blue Flag
Paradise Bay Hotel Resort Cirkewwa- Blue Flag
Blue Flag Awards help in giving our beaches a professional outlook on an international level standard.
To keep abreast with any updates please log onto http://www.mta.com.mt/blueflag
 To read this, and many other interesting articles, purchase the latest edition of the book here!