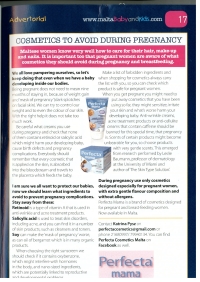 Maltese women know very well how to care for their hair, make-up and nails. It is important too that pregnant women are aware of what cosmetics they should avoid during pregnancy and breastfeeding.
We all love pampering ourselves, so let's keep doing that even when we have a baby developing inside our body.
Being pregnant does not need to mean nine months of staying in, because of weight gain and 'mask of pregnancy' (dark splotches on facial skin). We can try to control our weight and to even the colour of skin. With the right help it does not take too much work.
Be careful what creams you use during pregancy and check that none of them contains retinoid or salicylic acid which might harm developing baby, cause birth defects and pregnancy complications. Everybody should remember that every cosmetic that is applied on the skin, is absorbed into the bloodstream and travels to the placenta which feeds baby.
I am sure we all want to protect our babies, now we should learn what ingredients to avoid to prevent pregnancy complications. Stay away from these:
Retinoid is a type of vitamin A that is used in anti-wrinkle and acne treatment products. Salicylic acid is used to treat skin disorders, including acne, and you can find it in a number of skin products, such as cleansers and toners.
Soy can make the 'mask of pregnancy' worse, as can oil of bergamot which is in many organic products.
When choosing the right sunscreen we should check if it contains oxybenzone, which might interfere with hormones in the body, and nano-sized ingredients, which are potentially linked to reproductive and developmental problems.
Make a list of forbidden ingredients and shop for cosmetics always carrying the list with you, so you can check which product is safe for pregnant women.
When you get pregnant you might need to put away cosmetics that you have been using so far, they might sensitize, irritate your skin and what's worse harm developing baby. Anti-wrinkle creams, acne treatments products or anticellulite creams that contain caffeine
should be banned in this special time, that pregnancy is. Scents of certain products might become unbearable for you, so choose products with very gentle scents.  This emerged from research performed by  Leslie Baumann, professor of dermatology at the University of Miami and author of 'The Skin Type Solution'.
During pregnancy use only cosmetics designed especially for pregnant women, with extra gentle flavour composition and without allergens.
To read this, and many other interesting articles, purchase the latest edition of the book here!