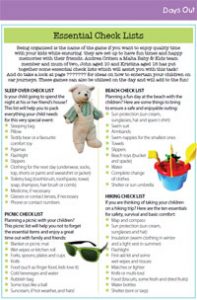 Essential Check Lists
Being organised is the name of the game if you want to enjoy quality time with your kids while ensuring  they are set up to have fun times and happy memories with their friends. Andrea Critien a mum of two has put together some essential check lists which will assist you with this task!
And do take a look at page  for ideas on how to entertain your children on car journeys. These games can also be utilised on the day and will add to the fun!
SLEEP OVER CHECK LIST
Is your child going to spend the night at his or her friend's house? This list will help you to pack everything your child needs for this very special event:
–          Sleeping bag
–          Pillow
–          Teddy bear or a favourite comfort toy
–          Pyjamas
–          Flashlight
–          Slippers
–          Clothing for the next day (underwear, socks, top, shorts or pants and sweatshirt or jacket)
–          Toiletry bag (toothbrush, toothpaste, towel, soap, shampoo, hair brush or comb)
–          Medicine, if necessary
–          Glasses or contact lenses, if necessary
–          Phone or contact numbers
PICNIC CHECK LIST

Planning a picnic with your children? This picnic list will help you not to forget the essential items and enjoy a great time out with family and friends:
–          Blanket or picnic mat
–          Wet wipes or kitchen roll
–          Forks, spoons, plates and cups
–          Knife
–          Food (such as finger food, kids love it)
–          Cold beverages and water
–          Rubbish bag
–          Some toys like a ball
–          Suncream, if hot weather, and hats!

BEACH CHECK LIST
Planning a fun day at the beach with the children? Here are some things to bring to ensure a safe and enjoyable outing:
–          Sun protection (sun cream, sunglasses, hat and spare t-shirt)
–          Swim suit
–          Armbands
–          Swim nappies for the smallest ones
–          Towels
–          Slippers
–          Beach toys (bucket and spade)
–          Water
–          Complete change of clothes
–          Shelter or sun umbrella
HIKING CHECK LIST
If you are thinking of taking your children on a hiking trip? Here are the ten essentials for safety, survival and basic comfort:
–          Map and compass
–          Sun protection (sun cream, sunglasses and hat)
–          Insulation (warm clothing in winter and a light vest in summer)
–          Flashlight
–          First-aid kit and some wet wipes and tissues
–          Matches or lighter
–          Knife or multi-tool
–          Food (biscuits, some fresh and dried fruits)
–          Water bottles
–          Shelter (tent or tarp)
 To read this, and many other interesting articles, purchase the latest edition of the book here!