Words by Jessica Mula – Marketing Executive at Malta Public Transport
"The wheels on the bus go round and round…" says a children's song – probably one of the songs that comes to every young person's mind when they get on a bus. Just hop on, and the big wheels will drive you around to explore Malta and its beautiful surroundings.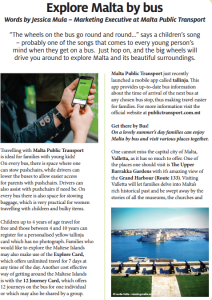 Travelling with Malta Public Transport is ideal for families with young kids! On every bus, there is space where one can stow pushchairs, while drivers can lower the buses to allow easier access for parents with pushchairs. Drivers can also assist with pushchairs if need be. On every bus there is also space for stowing baggage, which is very practical for women travelling with children and bulky items.
Children up to 4 years of age travel for free and those between 4 and 10 years can register for a personalised yellow tallinja card which has no photograph. Families who would like to explore the Maltese Islands may also make use of the Explore Card, which offers unlimited travel for 7 days at any time of the day. Another cost effective way of getting around the Maltese Islands is with the 12 Journey Card, which offers 12 journeys on the bus for one individual or which may also be shared by a group.
Malta Public Transport just recently launched a mobile app called tallinja. This app provides up-to-date bus information about the time of arrival of the next bus at any chosen bus stop, thus making travel easier for families. For more information visit the official website at publictransport.com.mt
Get there by Bus! On a lovely summer's day families can enjoy Malta by bus and visit various places together.
One cannot miss the capital city of Malta, Valletta, as it has so much to offer. One of the places one should visit is The Upper Barrakka Gardens with it's amazing view of the Grand Harbour (Route 133). Visiting Valletta will let families delve into Malta's rich historical past and be swept away by the stories of all the museums, the churches andthe palaces. Parents can enjoy shopping in the Capital while the children can have a good time playing around the dancing fountains at St. George's Square (Route 133). The bus service to Valletta is very frequent, thus making it one of the easiest locations to reach.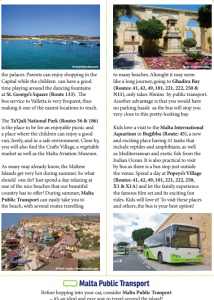 The Ta'Qali National Park (Routes 56 & 186) is the place to be for an enjoyable picnic and a place where the children can enjoy a good run, freely, and in a safe environment. Close by, you will also find the Crafts Village, a vegetable market as well as the Malta Aviation Museum.
As many may already know, the Maltese Islands get very hot during summer. So what should one do? Just spend a day relaxing at one of the nice beaches that our beautiful country has to offer! During summer, Malta Public Transport can easily take you to the beach, with several routes travelling to many beaches. Altought it may seem like a long journey, going to Għadira Bay (Routes: 41, 42, 49, 101, 221, 222, 250 & N11), only takes 30mins by public transport. Another advantage is that you would have no parking hassle as the bus will stop you very close to this pretty-looking bay.
Kids love a visit to the Malta International Aquarium in Buġibba (Route: 45), a new and exciting place having 41 tanks that include reptiles and amphibians, as well as Mediterranean and exotic fish from the Indian Ocean. It is also practical to visit by bus as there is a bus stop just outside the venue. Spend a day at Popeye's Village (Routes: 41, 42, 49, 101, 221, 222, 250, X1 & X1A) and let the family experience the famous film set and its exciting fun rides. Kids will love it! To visit these places and others, the bus is your best option!
 To read this, and many other interesting articles, purchase the latest edition of the book here!