Words by Crysta Darmanin  – Malta Baby & Kids Directory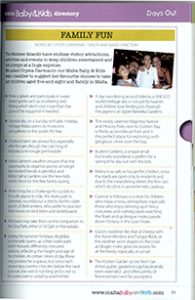 The Maltese Islands have endless visitor attractions, activities and events to keep children entertained and not always at a huge expense. We asked Crysta Darmanin our Malta Baby & Kids team member to suggest her favourite choices to take children aged five and eight and family in Malta.
Make a splash and participate in water based sports such as snorkeling and fishing which don't cost more than the price of the equipment needed.
Sporadically, on a Sunday or Public Holiday, Heritage Malta opens its museums and galleries to the public for free.
Chadwick lakes are always fun, especially after the rain, though the catching of tadpoles is no longer permissible!
Malta's clement weather ensures that the opportunity to organise picnics amongst like minded friends is plentiful, and Melita Salina Gardens are the new kids on the block for this free family outing.
While it may be a challenge for cyclists to find safe places to ride, the skate park in University roundabout is strictly for the older bunch of thrill seekers, who prefer to practice their moves on trick bikes and skateboards.
Pet lovers may take their canine companion to the Dog Park, either in Ta' Qali or Marsaskala.
During the summer holidays, Buġibba promenade opens up a free water park-which features differently coloured sections, reflecting the height and age of the children. At certain times of day there may possibly be a queue, but since each session lasts twenty minutes before the next turnover, the wait is not long and a visit to the water park is certainly worthwhile!
A day wandering around Valletta, a UNESCO world heritage site, is not just for tourists-and children love feeding (or chasing!) the pigeons at Upper Barrakka Gardens.
The newly opened Majjistral Nature and History Park, next to Golden Bay, is freely accessible on foot and is the perfect place for exploring, with gorgeous views over the bay.
Buskett Gardens, a unique small but lovely woodland, is perfect for a spring time day out with the kids.
Mdina is as safe as houses for children, since the roads are open only to residents and due to the meandering streets the few cars which do drive in are extremely cautious.
Carnival in February is a treat for children who enjoy a noisy atmosphere, especially those who enjoy dressing up in fancy costumes, and nothing beats watching the floats and grotesque masks parade down Floriana in the Gran Finale.
Gozo's coastlines like that at Dwerja with the Azure Window and Fungus Rock, or the weather worn shapes on the coast at Qbajjer, make for great excursions for all the family, especially at sunset.
The Kitchen Garden across from San Anton public gardens in Lija has recently been extended, and offers plenty of free entertainment for youngsters.
 To read this, and many other interesting articles, purchase the latest edition of the book here!