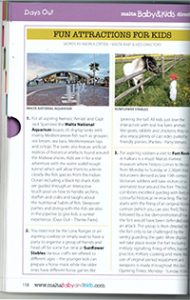 Words by Andrea Critien
For all aspiring 'Nemos', 'Aerials' and 'Capt Jack Sparrows' the Malta National Aquarium boasts 26 display tanks with mainly Mediterranean fish such as grouper, sea bream, sea bass, Mediterranean rays and octopi. The tanks also feature artificial replicas of historical artefacts found around the Maltese shores. Kids are in for a real adventure with the water walk through tunnel which will allow them to admire closely the fish species from the Indian Ocean including a black tip shark. Kids are guided through an interactive touch pool on how to handle urchins, starfish and crabs and taught about the nutritional habits of fish. Sleepover parties and diving-with-the-fish are also in the pipeline to give kids a surreal experience. (Days Out – Theme Parks)
You need not be the Lone Ranger or an aspiring cowboy or simply wait to have a party to organise a group  of  friends  and  head  off  for  some  fun  time  at Sunflower  Stables.  Various  crafts  are  offered  to different ages – the younger kids can prepare a horse mask while the older ones have different horse games like 'pinning the tail'. All kids just love the interaction with real live farm animals like goats, rabbits and chickens; they can also enjoy plenty of cart rides pulled by friendly ponies. (Parties – Party Venues).
For aspiring soldiers a visit to Fort Rinella in Kalkara is a must! Malta's liveliest museum where history comes to life daily from Monday to Sunday at 2.30pm sharp. Volunteers dressed as late 19th century Victorian soldiers will take visitors on an animated tour around the fort. This tour combines excellent guiding with lively and colourful historical re-enacting. The tour starts with the firing of an original Victorian cannon (which you can also fire!). This is followed by a live demonstration of how the fort would have been defended during an attack. The group is then directed into the fort only to be challenged by the sentry guarding the gate. More displays will take place inside the fort including military signalling, firing of rifles, bayonet practice, military cooking and more. Much use of original period equipment and weapons is made throughout this tour. Opening Times: Monday – Sunday: 9.30am- 5.00pm. Catch buses no's 3 and 213 to the Fort from Valletta.www.wirtartna.com
Visit  Malta's  leading  Artisan  Market  –  Malta  Artisan  Markets  –  selling  authentic  local  artisan products including arts and crafts and artisan food products direct from the artist and producer. The market offers creative kids' activities with the artists and is a great place to mix and mingle with friends and family. Look up Malta Artisan Markets on Facebook or www.maltaartisanmarkets.com to discover when and where the next market will be held. (Shopping – Shopping Information).
The BirdPark Malta is discretely nestled in Salina and is home to over 200 species of birds and other animals the park is a must for all those who have nature at heart. Flamingos, pelicans, swans, storks owls, cranes, parrots and many other amazing birds from around the world thrive happily with a variety of friendly mammals and reptiles. Visitors have the opportunity to learn about bird plumage cycles, flight, habitat, displays, song and calls, territory and pair formation, nests and eggs, migration and much more, whilst having the chance to observe and interact with wildlife. (Days Out – Themed Parks)
The Ħaġar Qim and Mnajdra Archaeological Park has a Visitor Center which is equipped with hands-on display together with a family area which includes educational activities for all the family as well as a "nature trail" for both tourists and locals, thus encouraging walking tours across the magnificent scenic countryside that this location has to offer.
To read this, and many other interesting articles, purchase the latest edition of the book here!