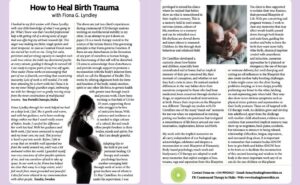 How to heal birth trauma – with Fiona G. Lyndley
I booked in my first session with Fiona Lyndley with very little knowledge of what I was going in for. What I knew was that I needed professional help with getting rid of a strong sense of anger that was affecting my attitude towards life. This anger was making me bitter, rough spoken and short tempered. As soon as I entered Fiona's room she started her work on me. Using her calm, persistent and yet strong capacity to manifest one's soul's true colour, she holds my disoriented psyche at every minute, guiding it through its turmoil till I am ready to expose parts of my true self again. Once easier, Fiona works on encouraging that part of me to flourish, overriding that constricting insecurity. Lots of work is still needed, I've only been attending for a short while but Fiona is to me my inner being's guardian angel, embracing me with her therapy ever so gently, moving away from the inner constrictions of multifaceted trauma. Sue Portelli Demajo, Malta
Fiona Lyndley through her work helped me heal on a deep level, I feel. She is gentle and warm, and with her guidance, we've been resolving things within me that I wasn't really aware  of before. Inside, I can feel the difference her work has had. With her guidance and birth work, I feel more connected to myself and my inner core, my soul. This journey is hard to put into words. Before, I felt in a way that an invisible wall separated me from the world around me, and I was a bit awkward within the world. I guarded myself, was very conscious of other people's opinions of me, and was somehow afraid to take up space. In our work so far, Fiona has helped me clear that away to a large extent, and I feel much freer, more grounded and peaceful. I also feel more relaxed in my communication withotherpeople. Emelie,Sweden
The above are just two client's experiences during craniosacral (CS) therapy sessions working on multifactorial stability in my clinic. In an attempt to put it down on paper, CS is a touch therapy rooted in the science of the terrain theory. One governing principle is that Form governs Function. If there are any disturbances in the formation of any part of ourselves as human beings, the functioning of that self will be disturbed. CS aims to acknowledge these disturbances and provide enough support to promote a reconnection with the body's inherent form which we call the Blueprint of Health. This works by offering alignment both the form and function of the body; mind, emotion, spirit or any other life force, to govern health with greater ease through touch and process work. I have been working in this field of CS for 25 years, supporting those who struggle to be free of restrictive forces. With patience and resilience as is needed to align colours of a cuboid, the end result offers people freedom in their bodies, minds and spirits. For this I am deeply grateful.
Adapting this to the field of pre and perinatal healing, CS therapy and somatic psychology has been another emerging field through work of some of the great teachers one of whom is Dr Ray Castellino. As a student under his supervision, I was privileged to attend his clinics where he realised that babies show us what is remembered in their implicit memory. This is a memory held in one's senses, nervous system, colours of life, emotions or a memory and can be rekindled once life rhythms are slowed down and inner silence is treasured. Children do this through their behaviour and relational field.
Dr Castellino developed a curiosity about how babies and children, especially born unmedicated and at home, had an implicit memory of their pre-conceived life, their moment of conception, and whether or not they had a twin in utero. He noticed marked differences in the way babies show their narratives compared to those who had been medicated, been conceived through alcohol or drugs, or experienced medical interventions at birth. Hence their imprints on the Blueprint was different. Through my studies with Dr Castellino one of the many "stand-out" moments for me was when we experienced in training putting our bodies into positions that instigated a remembrance of life forces around our own incarnation, implantation, labour and birth.
My work with the implicit memories we all carry, independent of our biological age, acknowledges, celebrates and deepens a reconnection to one's Blueprint of Humanity.
Body-based psychology, touch work and biodynamic CS therapy are adapted to melt away memories that exploit energies of loss, trauma, rage and separation from this Blueprint.
The client is then supported to reclaim their true Essence, their personal Blueprint of Life. With pre-conceiving and pregnant women, I work to clear any memories that may affect womb health passed down through both female and male lines, guiding the mother and baby to have the birth they want more fully. After birth, chemical imprints created with anaesthesia and induction, caesarean approaches be it planned or emergency, the use of forceps or ventouse delivery, fast cord clamping and cutting are all influences to the Blueprint that also create mother-baby bonding challenges.
A baby might come into the clinic having problems sleeping, or is too sleepy, possibly preferring one breast to the other, latching on and expressing pain when held. They may also show more obvious symptoms such as physical strain patterns and asymmetries in their body postures. These are all targeted with CS therapy work. As children grow and develop into adulthood, apart from the challenge with mother-child attachment, evidence now confirms that unresolved implicit memory may show up as migraines, back-pains, accidents, low tolerance to stress or to being relaxed, relationship difficulties, fatigue, depression, and increased drug abuse. It is important to remember that women's bodies KNOW how to give birth and babies KNOW how to be born so to facilitate the reconnection of this ancient knowing and wisdom in the body is the most important work any of us can do for our children on this planet.