Traditional Maltese 1st birthday parties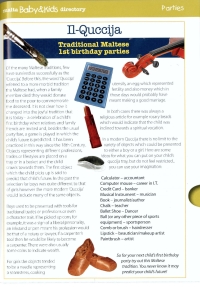 Of the many Maltese traditions, few have survived as successfully as the 'Quccija'.   Before this, the word 'Quccija' referred to a more morbid tradition the Maltese had, that when a family member died they would donate food to the poor to commemorate the deceased.  It is not clear how it changed into the joyful tradition that it is today –  a celebration of a child's first birthday when relatives and family friends are invited and, besides the usual party fare, a game is played in which the child's future is predicted. It has been practiced in this way since the 18th Century.   Objects representing different professions, trades or lifestyles are placed on a tray or in a basket and the child crawls towards them.  The first object which the child picks up is said to predict that child's future.  In the past the selection for boys was quite different to that of girls however the more modern 'Quccija' would include many of the same objects.
Boys used to be presented with tools for traditional trades or professions or even a character trait.  If he picked up corn, for example, it was a sign of a liberal personality, an inkstand or pen meant his profession would be that of a notary or lawyer, if a carpenter's tool then he would be likely to become a carpenter. There were also usually some coins to indicate wealth.
For girls the objects tended to be a needle representing a seamstress, cooking utensils, an egg which represented fertility and also money which in those days would probably have meant making a good marriage.
In both cases there was always a religious article for example rosary beads which would indicate that the child was inclined towards a spiritual vocation.
In a modern Quccija there is no limit to the variety of objects which could be presented to either a boy or a girl.   Here are some ideas for what you can put on you child's quccija tray, but do not feel restricted…you can use your imagination:
Calculator – accountant
Computer mouse – career in I.T.
Credit Card – banker
Musical Instrument – musician
Book – journalist/author
Chalk – teacher
Ballet Shoe – Dancer
Ball (or any other piece of sports equipment) – sportsman
Comb or brush – hairdresser
Lipstick – beautician/makeup artist
Paintbrush – artist
So for your next child's first birthday party try out this Maltese tradition.  You never know it may predict your child's future!