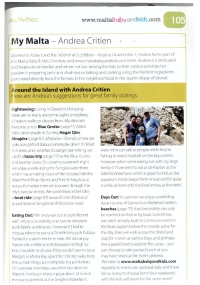 Married to Robert and the mother of 2 wonderful children – Kristina and John, Andrea is a dedicated and inspirational mother and when not taxi-driving the kids to their various activities her passion is preparing jams and chutneys or baking and cooking using the freshest ingredients purchased directly from the farmers in her neighbourhood in the quaint village of Qrendi.
Around the Island with Andrea Critien
Here are Andrea's suggestions for great family outings.
Sightseeing: 'I wouldn't mind taking the kids on all the latest and fancy sightseeing excursions, however there's always a budget to adhere to so we try to include sightseeing spots in our nature walks, our adventurous picnics or exciting camping trips. Living in Qrendi is a blessing; there are so many awesome sights and plenty of nature walks to choose from. My absolute favourite one is Blue Grotto/Wied Babu promenade in Żurrieq, Ħagar Qim, Mnajdra, Maqluba, Qrendi, where we walk along the recently refurbished Wied Babu promenade down to Wied iz-Żurrieq and, weather & budget permitting, we catch a luzzu trip to the Blue Grotto and nearby caves. Otherwise we stop at one of the many cafés then carry on our steep walk up the promenade to Ħagar Qim and down to Mnajdra temples, take a rest on the rocks then pursue our trek until we reach the deep natural crevice, Maqluba, in Qrendi.
'On a balmy summer's night we enjoy a walk along the Senglea waterfront which has amazing views of the restored Valletta Waterfront Pinto Stores and Fort St Angelo just across the water then we proceed through the city's narrow streets. We sometimes either take a boat ride around Grand Harbour or just around Senglea and Vittoriosa creek.'
Eating Out: 'We rarely eat out as both Robert and I enjoy our cooking and love to entertain both family and friends. However if I had to choose where to eat out, I'd definitely pick Palazzo Parisio for a lavish tea time treat. We also enjoy Fontanella in Mdina or Bobbyland in Dingli for hot chocolate and cake. Pizza would have to be at Margo's in Mistra Bay, apart from being really tasty the surroundings just complete the perfection. On summer weekdays we either nip down to Wied iz-Żurrieq or enjoy a pizza down at one of the many pizzerias at the Senglea Waterfront, were John can talk to people while they're fishing or watch football on the big screens. However when we're eating out with my large family (17) we tend to eat at tal-Kaptan at the Valletta Waterfront which is great for kids as the aquarium inside keeps them entranced for quite a while, at least until the food arrives at the table.'
Days Out: 'We're blessed with a mixture of places on the island. In summer we enjoy scrambling down to one of Selmun's or Mellieha's hidden beaches that fortunately can only be reached on foot or by boat. Sometimes we catch an early boat to Comino to swim in the Blue Lagoon before the crowds arrive for the day, then we walk across the island and stop for a swim at various bays, and perhaps hire a pedal boat to explore the caves – you can choose to take packed lunch or you may have snack at the hotel cafeteria.
'In the Autumn/winter the boots and anoraks come out and we go on long country walks in Qrendi, Siggiewi, Fomm ir-Riħ or on warmer days we enjoy picnics in Mtaħleb, Miżieb, Manikata, Buskett, depending on the weather.
'We also enjoy flying our kites at Ta' Qali or Ħal-Far on very windy days. There are also the Wirt Artna or Heritage Malta Sites that hold regular open days of their various sites and when possible we try to take advantage of these events.
'There's no excuse not to go out in Malta, we're lucky to have great weather, short distances and a wealth of natural and historical venues to visit. We refer to www.maltababyandkids.com regularly as events are updated daily and there are so many to choose from! Your weekends with the kids will never be the same again!'
For many more great articles, purchase the latest edition of the book here