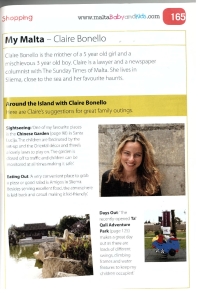 Claire Bonello is the mother of a 5 year old girl and a mischievous 3 year old boy. Claire is a lawyer and a newspaper columnist with The Sunday Times of Malta. She lives in Sliema, close to the sea and her favourite haunts.
Around the Island with Claire Bonello
Here are Claire's suggestions for great family outings.
Sightseeing: 'One of my favourite places is the Chinese Garden in Santa Lucija. The children are fascinated by the set-up and the Oriental décor and there's a lovely lawn to play on. The garden is closed off to traffic and children can be monitored at all times making it safe.'
Eating Out: 'A very convenient place to grab a pizza or good salad is Amigos in Sliema. Besides serving excellent food, the atmosphere is laid-back and casual making it kid-friendly.'
Days Out: 'The recently-opened Ta Qali Adventure Park makes a great day out as there are loads of different swings, climbing frames and water features to keep my children occupied