Thanks to Weleda Mum & Baby Range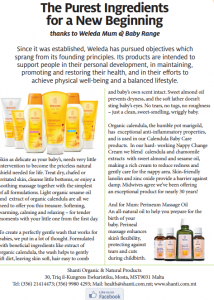 Since it was established, Weleda has pursued objectives which sprang from its founding principles. Its products are intended to support people in their personal development, in maintaining, promoting and restoring their health, and in their efforts to achieve physical well-being and a balanced lifestyle.
Skin as delicate as your baby's, needs very little intervention to become the priceless natural shield needed for life. Treat dry, chafed or irritated skin, cleanse little bottoms, or enjoy a soothing massage together with the simplest of all formulations. Light organic sesame oil and extract of organic calendula are all we need to offer you this treasure. Softening, warming, calming and relaxing – for tender moments with your little one from the first day
To create a perfectly gentle wash that works for babies, we put in a lot of thought. Formulated with beneficial ingredients like extract of organic calendula, the wash helps to gently lift dirt, leaving skin soft, hair easy to comb and baby's own scent intact. Sweet almond oil prevents dryness, and the soft lather doesn't sting baby's eyes. No tears, no tugs, no roughness – just a clean, sweet-smelling, wriggly baby.
Organic calendula, the humble pot marigold, has exceptional anti-inflammatory properties, and is used in our Calendula Baby Care products. In our hard- working Nappy Change Cream we blend calendula and chamomile extracts with sweet almond and sesame oil, making a rich cream to reduce redness and gently care for the nappy area. Skin-friendly lanolin and zinc oxide provide a barrier against damp. Midwives agree we've been offering an exceptional product for nearly 30 years!
And for Mum: Perineum Massage Oil An all-natural oil to help you prepare for the birth of your baby. Perineal massage enhances skin's flexibility, protecting against tears and cuts during childbirth.
 To read many other interesting articles, purchase the latest edition of the book here!