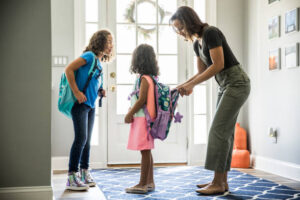 A little planning now means a smoother start to the school year. To help, here is our Back to School To Do List, filled with tips and resources for saving money, time, and your weekday morning sanity. We hope this school year is your best yet!
3 weeks before
Get your kids involved in Back to School shopping both at the planning stage and shopping stage
Invite classmates for playdates to give the kids a chance to reconnect
Get their minds into school mode with games and brain teasers
Finalise transportation arrangements
Spend time together doing family stuff before everyone gets caught up in the routine
2 weeks before
Get children's rooms, desks and school supplies organised
Start getting them to sleep earlier day by day
Research and make a list of lunches including food items they like
1 week before
Have backpacks packed and ready to go
Buy food supplies for lunches including healthy snacks
Book a hair cut for the kids
Write down a schedule for all their activities
Make sure all shopping for school supplies is done including:
Lunch boxes and water bottles
Stationery
Gym clothes and uniforms
Pencil cases filled with pencils, erasers, rulers
Tablets
Crayons, coloured pencils, washable markets etc
MAKE SURE TO SET YOUR ALARM CLOCK ON THE NIGHT BEFORE!!