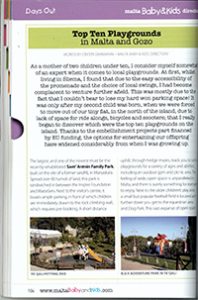 Words by Crysta Darmanin – Malta Baby & Kids Directory
As a mother of two children under ten, I consider myself somewhat of an expert when it comes to local playgrounds. At first, whilst living in Sliema, I found that -due to the easy accessibility of the promenade and the choice of local swings, I had become complacent to venture further afield. This was mostly due to the fact that I couldn't bear to lose my hard won parking space! It was only after my second child was born, when we were forced to move out of our tiny flat, in the north of the island, due to lack of space for ride alongs, bicycles and scooters; that I really began to discover which were the top ten playgrounds on  the  island.  Thanks  to  the  embellishment projects part  financed  by EU funding, the options for entertaining our offspring have widened considerably from when I was growing up.
The largest, and one of the newest must be the recently rehabilitated Sant' Antnin Family Park, built on the site of a former landfill, in Marsaskala. Spread over 80 tumoli of land, this park is sandwiched in between the Inspire Foundation and WasteServ. Next to the visitor's centre, it boasts ample parking, in front of which children are immediately drawn to the rock climbing wall, which requires pre-booking. A short distance uphill, through hedge mazes, leads you to various playgrounds for a variety of ages and abilities, including an outdoor gym and picnic area. The feeling of wide, open space is unparalleled in Malta, and there is surely something for everyone to enjoy. Next to the older children's play area, a small but popular football field is located and further down you get to the equestrian area and Dog Park. This vast expanse of open space is an unusual find in Malta, and it has the added bonus of rarely feeling overcrowded. There are also some new water features as an added bonus for the children, and the young at heart!
Slightly smaller in size, but packed with exciting equipment and ample opportunities to get soaked -the B.O.V  Adventure  Park  in  Ta' Qali is  very popular, especially at the weekends. This playground is grouped into areas for various ages and abilities, and the equipment is fun and safe. The turfed area is attractive to families with infants, and sunbathing  couples. Their walk-  through fountain is one of the main attractions of this playground, so remember to pack a swimsuit, change of clothes and waterproof shoes for the kids, when you visit! The lack of shaded areas means that this park becomes a ghost town during the day in the summertime, but springs back to life by late afternoon. It's proximity to Ta' Qali National park, which makes an ideal spot for a picnic, and the Petting Zoo ensure that a visit to this playground could easily be extended  into a  fun, family day out. Contrary to most local playgrounds, the  Ta' Qali Adventure Park boasts a cafeteria, with outdoor seating and ample toilet facilities. Although bicycles, scooters and skates are not permitted in the park-they may be ridden just over the fence in the picnic area. At the back of the park are an outdoor gym and five-a-side football area, where you will often find ice-cream and doughnut vendors. Parking just outside the entrance, on both exits of the park, helps make this park a hassle free outing for all concerned.
The Buġibba promenade has recently benefitted from a playground just behind the Aquarium, which is in keeping with the nautical theme. It has climbing  frames, swing sets and slides which are located conveniently close to the cafeteria in Pjazza San Pawl, where parents may enjoy relaxing with a cup of tea, whilst still keeping a watchful eye on their offspring. The views of the open sea make for an idyllic setting. Since this playground is the relatively 'new kid on the block', it is best avoided at the weekends, until the novelty wears off; and is rather unpleasant on blustery days, due to its lack of shelter from the prevailing winds.
Pembroke boasts one of the best playgrounds in the north of Malta, set in a picturesque valley down by the water's edge, and ample easy access parking.  It  is  recommended  to  take  your  child's  favorite personal  mode  of  transport  with  you  when  you  visit-bicycles, scooters,  roller  blades  or  skateboards-depending  on  their  age;  as there is a wide, open amphitheatre conveniently located adjacent to the  car  park.  To  one  side  lies  a  sand  football  pitch,  which unfortunately  bears  the  brunt  of  littering  and  is  quite  pebbly,  and turns  into  slime  post-  rainfall  –  but  do  take  your own  ball  if  your child  is  partial  to  joining in  the  beautiful  game. On the lower level lies a state-of-the art playground for young children, with equipment combining firm favorites-such as a roundabout, with innovative equipment -like the swinging disc. On the upper level, accessible either from the steep stairway or via the ramp around  the side, there is a landscaped garden space unlike anything which  I have come across locally. Therein lies a small play area for toddlers, a stream meandering through grassy rocks and a shaded seating area for the grownups. Favorite activities of my children are to attempt to skim rocks across the man-made river -and hop across the stones through the water until one of them falls in! The toilet facilities are fantastic, and well kept. Adults can take a load off since their children will keep themselves busy skipping alongside the stream. Unfortunately, there are two glaringly obvious downsides to this park. Firstly, the water feature is sporadically switched off, thus turning  the  stagnant water into a smelly swamp which  attracts mosquitoes and  is a health  hazard. Secondly, and most predominantly, the obvious lack of refreshments available necessitates the need to take provisions with you. Authorities take note- what us mum's want from an outing is a cup of tea and the newspaper while the kids waste their energy! Though occasionally the doughnut van shows up and does a roaring trade in take-away hot beverages served in tiny Styrofoam cups.
With toddlers, finding a suitable playground can be a challenge, therefore it is best to try and find small areas which cater specifically for the under five's.  One  such playground  is  located  in  St.Andrew's  garden,  next  to  the  tennis court. The area is enclosed by fencing, and the gate entrance is kept closed to deter the rugrats from running into the street. Large, low, plastic  equipment is  easy  to  use  and  safe,  and  many  parents  bring small  ride  alongs  and  bubble  mix  to  keep  the  kids  entertained. Mummies be warned though-bringing along your own refreshments is a must!
Another small village gem is the Ħal Lija Park, located in the heart of its quiet residential area. A very conscientious park attendant keeps the place up to scratch. Located inside the playground, you will find a tennis court and a bowls pitch. There is no need to bring a football with you, as there are plenty to choose from in the sought after pitch. The usual fare of swings sets and winding slides is set in a lovely garden, complete with traditional Maltese café serving 'te fit-tazza' (tea in a glass).
A hidden gem which I happened upon, quite by accident, is the public playground in Paola. The surrounding trees provide some shade and the large space hosts a variety of imposing, modern jungle gyms, playhouses and climbing frames, molded into fantastical shapes. This playground is really a feather in the cap of the East of the island, where previously public spaces were frequented by unsavory characters, whose litter rendered the area unsafe for children. In contrast, Ġnien Pawlu Boffa is a top notch playground.
On the Coast Road, across from the water park in Baħar iċ-Ċaqgħaq, in a modest square parallel to the main road, lies a lovely little area just in front of the local parish church. The main attraction here is the water installations-so parents, be warned and bring bathers, a towel and possibly some flip-flops along with you for your charges. Herein you will find a modern take on jungle gyms, playhouses and swing sets. The playground is located in a residential area, but seems to attract an older age group, which helps keep the noise level to a minimum.
Sliema residents are spoilt for choice with the latest addition to public spaces at Ix-Xatt ta' qui-Si-Sana. George Bonello Du Puis garden is excavated below street level, providing shelter from the prevailing winds, as well as minimizing the effect of the imposing structures. The outdoor gym equipment is surrounded by grassy hills, providing visitors with a rare opportunity to lie on the grass, and their children find it all the better to roll down the hills! High webbed climbing frames, infants' teddy bear reclining swings sets and a fountain sprouting from the ground make this the most sought after outing in the northeast of the island for a spot of family fun. Mobile kiosks and coffee shops are within easy reach of this playground. The older playground on the Sliema promenade, next to it-Torri, pales in comparison to this shiny new addition.
An inventory of recreational spaces for families would not be complete without giving our sister island a mention. Close to Ramla l-Ħamra, lies a peaceful playground, where the old style basketball game provides entertainment for children of all ages. The quaint swing sets, slides and see-saws near Ġgantija are in sharp contrast to the recently refurbished, spacious Xagħra playground, complete with roundabout and plastic climbing frame for the kids. Last but definitely not least, the public area in Munxar deserves a special mention for its excellent climbing frame, swing sets and outdoor gym – a vain attempt to encourage the grown-ups to work out, no doubt!
To recap, Malta's public areas have really come a long way from the decrepit swing sets, merry-go-rounds, slides and see-saws of the previous millennium. Nowadays, the sophistication of the equipment has risen to meet families' high expectations. Modern playgrounds aim to give better quality of life to busy parents, as well as embellish their surroundings, while providing safe, recreational spaces for families to visit.
 To read this, and many other interesting articles, purchase the latest edition of the book here!